Welcome!
Welcome to the website of St. Matthews Martial Arts. We have classes for all ages and experience levels. Our dojo was founded in 1993 by Master Joan Richert, right here in Louisville. It is our mission to positively impact our community with martial arts. We would love to have you in for a free trial class so you can see for yourself. There are many benefits to the martial arts, you can come in for some, or get them all.
About Our Classes
St. Matthews Martial Arts teaches martial arts classes for children, teens, and adults. We have family karate classes so everyone can participate. Our program is an excellent way for kids to develop focus, self confidence, and discipline. Our family karate class is also a fun way for the family to be active together.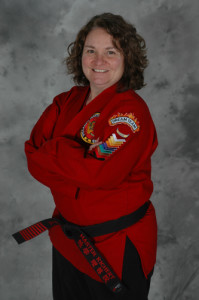 Instructors
Our dojo family includes many instructors and assistant instructors. We are very lucky to have four Master level instructors at our school, including Master Joan Richert (one of the Seven Dragons, the seven highest ranked people in our system). We specialize in a safe environment to learn Shaolin Kempo Karate for different body types and learning styles.
Women's Self Defense
We teach Self Defense Classes for individuals or groups. We have individual classes, private lessons, group classes, and interactive seminars depending your needs. If you have questions about our regularly scheduled self defense classes or you would like to schedule a group class or seminar, click More.
Tai Chi
Tai Chi is a relaxing and invigorating art. Our Tai Chi classes help teach you focus, awareness, and integration of mind and body. Tai Chi is also known to have many health benefits. It helps the fluids of the body to flow better to areas of your body that may have been stagnant. Through practice of Tai Chi over time, one becomes less stiff; the body feels better. You feel more fluid, relaxed yet aware, thus improving the quality of life.
Samurai Sword
The katana or daito are two names for the same sword, commonly called a samurai sword. We teach an old family style of Kenjutsu, named after the Maemoto family. Our class focuses on various drills to teach correct cutting technique as well as the various partner drills from traditional samurai practice. Class does require a bokken (a wooden training sword). And is recommended for adults and teens only.
The Three Rules
Self Discipline: Doing the things you know you should do, when you are supposed to do them, without being told.
Respect: Treating others the way you want to be treated.
Self Control: Controlling your behavior to fit the situation you are in.
Benefits
Fitness
Self Defense
Focus
Confidence
Community
Tradition
Fun
St Mattews Martial Arts
4160 Westport Road Suite B
Louisville KY 40207
(502)899-5506